With over 30 years in retail operations, The Wall has cultivated unique and timeless relationships with clients. With our expertise in retailing and unique and effective marketing strategies, The Wall has grown and evolved into a creative consulting agency operating in various industries by virtue of experience, expertise and a sense of opportunity towards the demands of a fast-paced market.

In addition to the office and showroom, two select shops in premium areas of Tokyo and a freshly opened lifestyle store, opened in partnership with the Four Seasons hotel chain, represent the fruitful outcome of our journey up to the moment.
BALENCIAGA
BOTTEGA VENETA
LOEWE
JIL SANDER
MAISON MARGIELA
VETEMENTS
RAF SIMONS
JACQUEMUS
MARINE SERRE
Y/PROJECT
1990年 Grand Open

世界各都市から今のトレンドをリアル・タイムに発信するショップとして、南青山にADELAIDEをオープン。
"過去のスタイルに新しいコンセプトをハイブリッドさせたデザインに出会う感動の場"をクリエイトすることを目指し、洗練された質の高いプロダクトを追求するデザイナーのみをセレクト。ここから、新たな価値創造へのチャレンジが始まる。
ADELAIDE was opened in Minami Aoyama as a store that transmits current trends from cities around the world in real time. With the aim of creating "an inspiring place to encounter designs that hybridize past styles with new concepts," ADELAIDE selects only designers who pursue sophisticated and high quality products. This is where the challenge of creating new value begins.

2006年 Renewal Open
As a prototype of "fusion of art and fashion", which is one of the shop concepts ADELAIDE has been building up. We have developed several sections (display spaces) based on the theme of "Art Museum". Each display space expresses the background artwork of the creator. It is a creative space that displays a wide range of talents, aesthetics, and sensibilities.

ADELAIDEが築いてきたSHOPコンセプトの一つでもある"アートとファッションの融合"のプロトタイプとして"Art Museum"というテーマをもとにいくつかのセクション(ディスプレイスペース)を展開。
それぞれのディスプレイスペースはクリエイターがバックグランドにあるアートワークを表現。
多方面にわたる才能や美意識、感性を演出するクリエイティブな空間。

Branding Direction (Logo Design / Façade Design): M/M Paris
2016年 25th anniversary

ADELAIDE25 周年アニバーサリーを祝うべく、ADELAIDE を代表するファミリーブランドよりスペシャルな限定アイテムをリリース。 VETEMENTS, RAF SIMONS, NEHERA からは各ブランドが ADELAIDE のためだけにデザインしたスペシャルなウエアを限定数 展開。さらに BALENCIAGA においてはスペシャルボックスに収められたアーカイブジュエリーを 25 周年にちなみ 25 ピース 用意し、インスタレーション形式にて展示販売を行う。

To celebrate ADELAIDE's 25th anniversary, ADELAIDE's representative family brands have released special limited edition items. VETEMENTS, RAF SIMONS and NEHERA will release a limited number of special wear items designed exclusively for ADELAIDE. In addition, BALENCIAGA will prepare 25 pieces of archived jewelry in a special box and exhibit them in an installation style.

2002年 Grand Open

ADELAIDEの姉妹店として神宮前にADDITION ADELAIDEをオープン。
世界各都市からのセレクトをベースに、トレンドに左右される事なく、より個性的な服を提案するブランド・デザイナーを展開。
"希少価値の追求、アートとの融合、ユニセックスとユーティリティ"をキーワードにした新しい形のセレクトショップ。
全ては共同作業(コラボレーション)のうえに成り立っているという信念のもと、多方面にわたる才能やアイディア、そしてエネルギーが私共に加わり、それぞれの価値観のもとでクリエイティブの終わりなき可能性にチャレンジし、スタートした。

白い壁にメタルラックが並ぶミニマムなショップスペースは、現代美術家のエリザベス・クレセヴァ-(山海塾のステージなども手掛けるコンテンポラリーアーティスト)によるデザイン。
これはADDITIONの求める可能性のひとつに、服を購入するという場というだけでなくその空間をも大切にしていきたいというショップ作りがある。
これらコンセプトの全ては、"ADDITION"(加える)という名に表現された。
Opened ADDITION ADELAIDE in Jingumae as a sister store of ADELAIDE. Based on selections from cities around the world, the brand and designers propose more unique clothes without being influenced by trends. It is a new type of select store with the keywords of "pursuit of rare value, fusion with art, unisex and utility. Based on the belief that everything is based on collaboration, we started by bringing together talents, ideas, and energy from various fields to challenge the endless possibilities of creativity based on our respective values.

The minimalist store space with white walls and metal racks was designed by Elizabeth Kreseva, a contemporary artist who has also worked on the Sankai Juku stage. One of the possibilities that ADDITION seeks is to create a store that is not only a place to buy clothes, but also a space to do so. All of these concepts are expressed in the name "ADDITION" (add).

ADDITION ADELAIDEに増築フロアーをオープン。
このフロアーの空間プロデュースを英デザインチーム"Postnormal"のスティーブ・リドバリーが担当し、フロアーの中心となる"MOBILE"インスタレーションをBLESSが担当。
ハイクリエーションを目指すアーティストのコラボレーションによって、"新しい価値観―ユニセックス、美意識のプログレス"を基本とした私達のコンセプトは進化し、また常に新鮮で独自のマーケットを展開する。

A new floor extension was opened in Addition Adelaide. Steve Ridbury of the British design team Postnormal was in charge of space production for this floor, and BLESS was in charge of the MOBILE installation, the centerpiece of the floor. BLESS is in charge of the MOBILE installation. Through the collaboration of artists aiming for high creation, our concept based on "new values - unisex, progress in aesthetics" will evolve and develop a fresh and unique market. Our concept is evolving and we are always looking for new and unique markets.


2012年 10th Anniversary

In commemoration of the 10th anniversary of the opening, the store's symbolic logo design and window design was handled by Homework, a design studio that has been in the spotlight for its work on the art direction of international fashion magazines HE and Cover, as well as the visuals for Lady Gaga's new perfume.
OPEN10周年を記念しショップのシンボルであるロゴデザイン及びウィンドウデザインを、国際的なファッションマガジン"HE"や"Cover"のアートディレクションの他、
レディ―・ガガの新しい香水のビジュアル制作も手掛け話題となった、今注目のデザインスタジオ【Homework】が担当。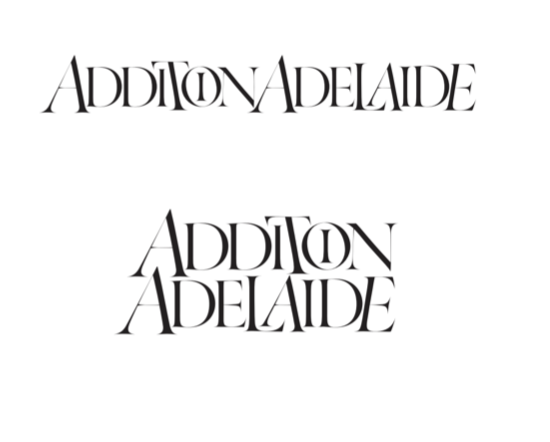 Logo design by Homework
2017年 15th Anniversary
オープン当初のコンセプト、

"希少価値の追求、アートとの融合、ユニセックスと ユーティリティ"をキーワードに、アートギャラリーのようなクリエイティブな空間を演出。新しいムーブメントを作る独創的 なブランドを集め、さらにはコラボレートするデザイナーやアーティストに共通するセンスと価値観を共有しあい、 クリエイションの終わりなき可能性を追求"

を踏襲しつつも、新たなステージへと進化した"NEXT ADDITION ADELAIDE" をコンセプトに、世界のトップアーティストのクリエイションにインパクトを与える感動の発信拠点−プラットフォームになる ことを目指し、増築リニューアルオープン

The original concept of the store was
With the keywords of "pursuit of rare value, fusion with art, unisex and utility", we create a creative space like an art gallery. The store will feature original brands that are creating new movements, as well as designers and artists who collaborate with each other to share common sense and values, and pursue the endless possibilities of creation.
With the concept of "NEXT ADDITION ADELAIDE", which has evolved to a new stage while maintaining the original concept of the "Next Addition Adelaide", the store has been expanded and reopened with the aim of becoming a center of inspiration and a platform that will impact the creations of the world's top artists.

2020年 Grand Opening
次世代のラグジュアリーを提案するフォーシーズンズホテル東京大手町のスパ内に、ADELAIDEとのコラボレーションによるライフスタイルストアをオープン

コロナ禍で価値観やライフスタイルが大きく変化する時代が到来し、何が本物で何が正しいか真剣に考える意識がより着目されています。

私達はこういった時代の中、あらゆるジャンルにおいて、本物のみを追及し続けている生産者、 物づくりにこだわりのある職人やデザイナー、アーテイスト達のスピリット、文化を、東京を起点に世界に向けてコミュニケイト できる"豊かな文化の創造"をコンセプトに新たなライフスタイルストアを提案します。
日常の中で本物を知り、本物に触れることで実感できる事がコンセプト。アデライデが厳選した日本未入荷 のブランドアイテムや入手困難な希少価値の商品や老舗店の名作、日本の美意識に拘った陶芸家、工芸家の作品の数々、 品質重視のオーガニック・サステイナブルな"プロダクト・ライフスタイル・価値観"を提案します。

また、このグランドオープンを記念して、 VETEMENTS,MAISON MARGIELA (1月展開予定), REIGNING CHAMP, etc による限定アイテムも発売。
Opening of a lifestyle store in collaboration with ADELAIDE in the spa of Four Seasons Hotel Tokyo Otemachi, proposing the next generation of luxury

We are living in an age where values and lifestyles are changing drastically due to the Corona disaster, and people are paying more attention to seriously considering what is authentic and what is right.

In these times, we are striving to create a new lifestyle store based on the concept of "creating a rich culture" that can communicate the spirit and culture of producers, craftsmen, designers, and artists who continue to pursue only authentic products in all genres to the world from Tokyo. We propose a new lifestyle store based on the concept of "creating a rich culture. The concept is to know the real thing in daily life and to be able to feel it by touching the real thing. Adelaide-selected brand items that have not yet arrived in Japan, rare products that are difficult to obtain, masterpieces from long-established stores, and works by potters and crafters who are concerned with the Japanese sense of beauty, as well as quality-oriented organic and sustainable "products, lifestyle, and values" are proposed. products, lifestyles, and values.

To celebrate the grand opening, limited edition items by VETEMENTS, MAISON MARGIELA (to be launched in January), REIGNING CHAMP, etc. will also be available.


THE SPA boutique by ADELAIDE
フォーシーズンズホテル東京大手町 39F SPA内
東京都千代田区大手町1-2-1
Tel: 03-6810-0660
Email:
spa.otemachi@fourseasons.com
営業時間10:00-22:00